Hughes&Kettner CC412AV Guitar Cabinet
Modern high-gain amp with European flavor
faithfully reproduces the tight, punchy sound of Hughes & Kettner's 4×12 cabinet, which established itself as a modern high-gain amp born in Germany.
Hughes&Kettner CC412AV Introduction
Hughes & Kettner is a guitar amplifier brand founded in Germany in 1984 by two brothers, Hans and Lauterstammer. Hughes & Kettner made its most impressive debut on stage with an acrylic panel engraved with its logo that glowed with the light of a neon tube. The flagship model, the Tri Amp, was a fully independent 3-channel, 150W amp head with 9 12AX7 pre-tubes and 6 EL34 power tubes. It was a worldwide hit, partly because of its distinctive appearance and partly because its existence marked the beginning of modern high-gain amplifiers, a perfect answer to the demands of guitarists, which had not been realized by any other amp manufacturer up to that time. In particular, there had never been an amp head that used as many as nine tubes in the preamp, and it was a massive investment to achieve the ideal sound and functionality.
The Tri Amp was improved upon and remodeled into the Tri Amp Mark 2 in 2002. With the Tri Amp as its flagship, the company has since released a variety of amps, including the DUOTONE and zenTera. The GrandMeister Deluxe, an all-tube amp with recallable knob positions, is a new offering from Hughes & Kettner, which has long incorporated MIDI into its amps.
In 1997, Hughes & Kettner released the stompbox "Rotosphere" as a rotary simulator equipped with a vacuum tube overdrive, and it became a big hit not only for guitarists but also for Hammond organ players as a Leslie simulation pedal.
Hughes & Kettner also sells cabinets specifically designed to drive their high output all-tube amps. They are made of special birch and Tolex materials that are very hard and sturdy. We recorded a sample of the CC-412AV, a slant cabinet with four Celestion Vintage 30s.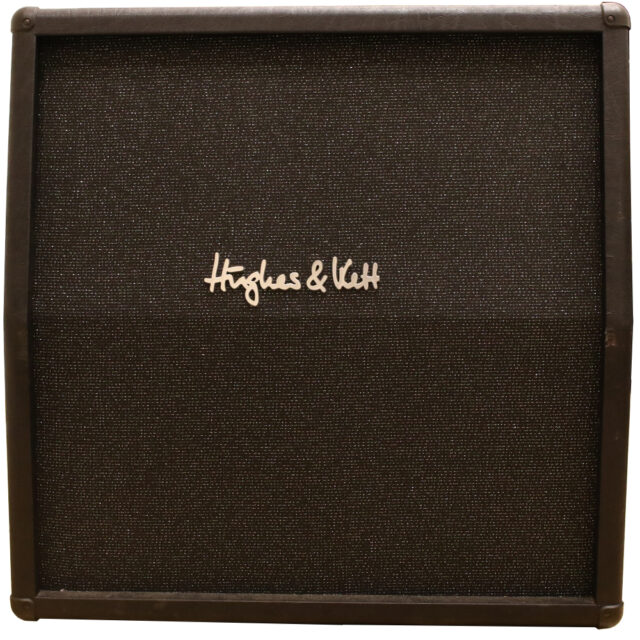 Dynax CAB IR
DYNAX IR is the ultimate impulse response, created with a focus on how to reproduce a realistic cabinet. DYNAX IR has a lower latency than most IRs, providing a highly responsive and realistic sound.
Dynax CAB IR Introduction
also you can check Sound sample each Guitar Cabiner models on DYNAX IR LIST page.
DYNAX IR LIST Page
we will post latest DYNAX IR news to our Official Instagram.
Please follow us.
DYANX & Theone Official Instagram